Spain has a great variety of dishes and the gastronomy is very different depending on where you go, and the season you visit. The weather influence the things you find on the menus, like for instance the Castillian soup in central Spain is very tasty, but difficult to find in summer. And gazpacho (cold tomato soup) is always in the menus in Andalucia, but only in summer in the rest of Spain.
I have created for you a list on some foods you should try if you visit Spain, and don't forget to check as well the typical Spanish drinks 🥂.
Paella Valenciana (Paella from Valencia)
Paella is by far the most famous Spanish food, but there are some things you should know before you order it.
It has to be cooked in a special pan called 'Paella', and it has to be dry rice. It has a thin layer of 'socarrat' at the bottom, this layer is almost burnt and crunchy.
The yellow color comes from the saffron, a very unique spice.
There are many kinds of rices cooked in a paella pan, but there are some recipes that are consider more authentic than others. If you go to Valencia (east cost of Spain) you'll find Paella Valenciana, paella del senyoret (the one in the picture), seafood paella, black paella, etc.
Pulpo a la Gallega (Galician Octopus)
There are many ways to cook octopus, but our favorite is in the "Galician way", boiled in a copper cauldron and served in a wooden plate with olive oil and sweet or spicy paprika. It goes great with albariño or ribeiro wine.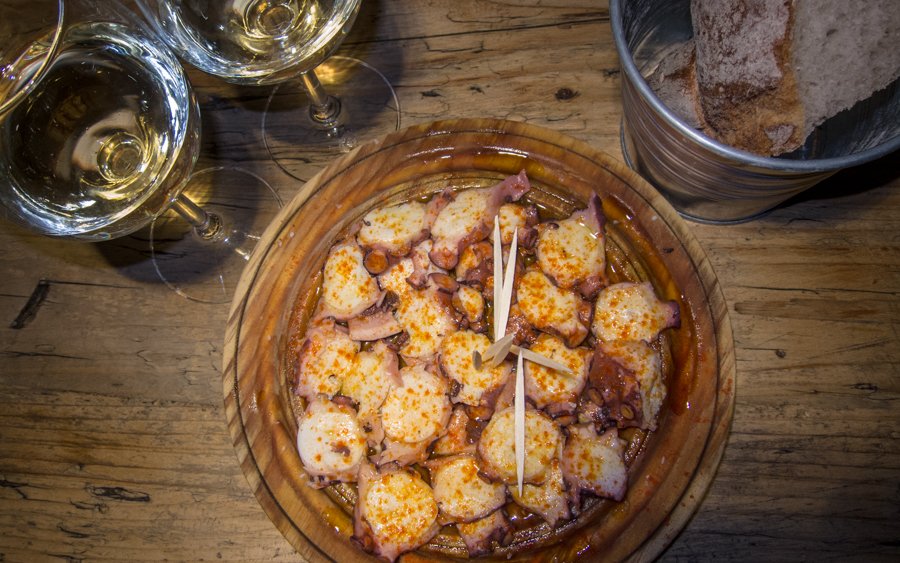 Salmorejo Cordobes
Or simply Salmorejo, is a cold tomato soup, it could remind you to Gazpacho (much more famous out of Spain), but the ingredients are different, is mainly tomato, bread, olive oil and garlic, and it's served with ham and boiled egg on top.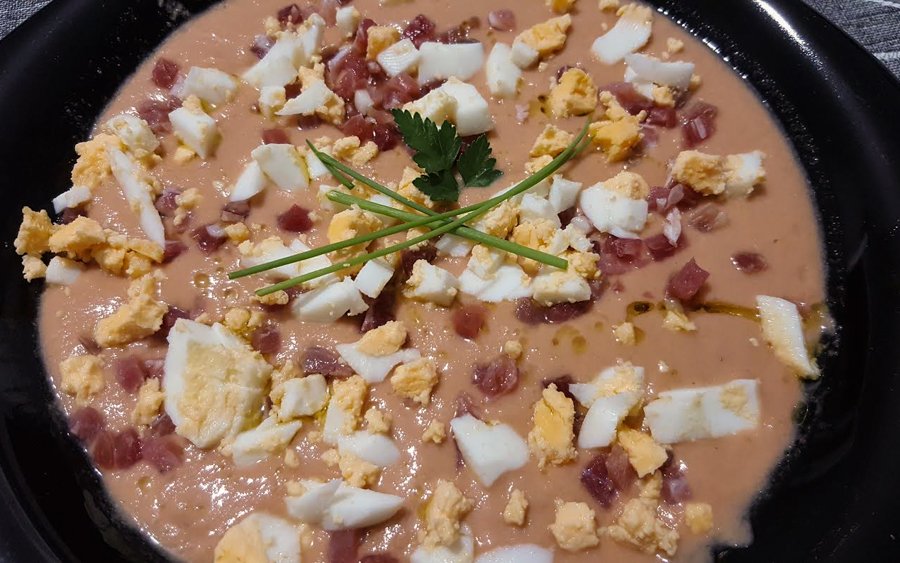 Toasts with tomato and Iberian Ham
Iberian ham is one of the treasures of Spanish gastronomy, you can eat jamon directly from the plate (with your hands! never with a fork!), or you can have jamon with melon as a dessert, or on top of a toast with mashed tomato and garlic, one of the very typical Spanish breakfast!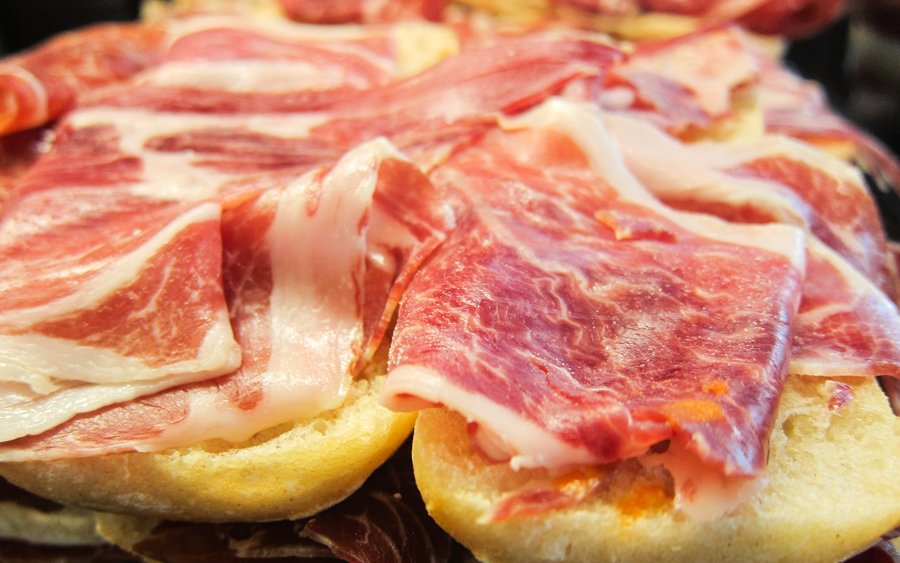 Pintxos
In the Basque Country (north of Spain) if you go to a tavern you'll find the bars full with Pintxos. All kind of food in small portions staved with toothpicks, you pay at the end counting how many toothpicks you have on your plate.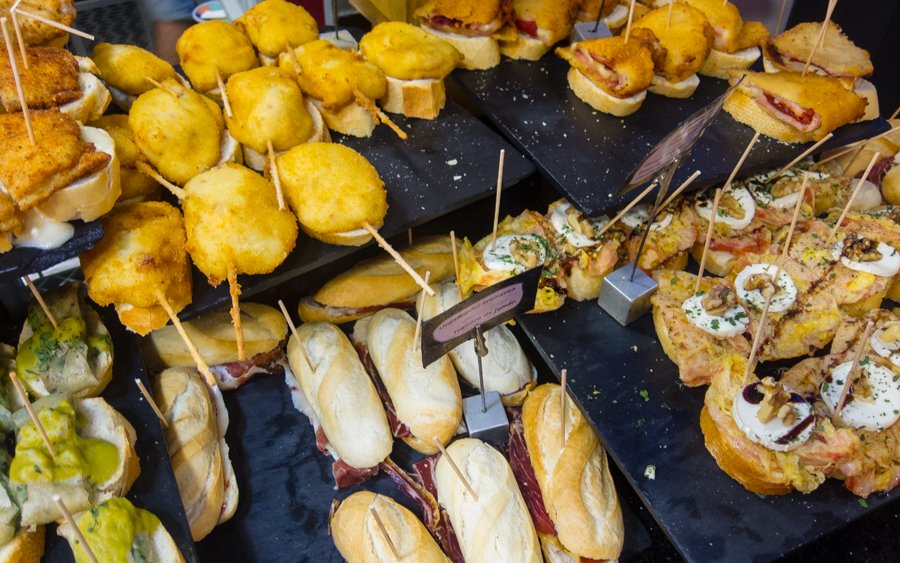 Croquetas (Croquettes)
They are made with bechamel and breadcrums, mixed with one other tasty ingredient. Traditionally that ingredient added to the bechamel were the left overs from the day before, but nowadays in restaurants they usually serve ham croquettes, or cod croquettes, or blue cheese, etc.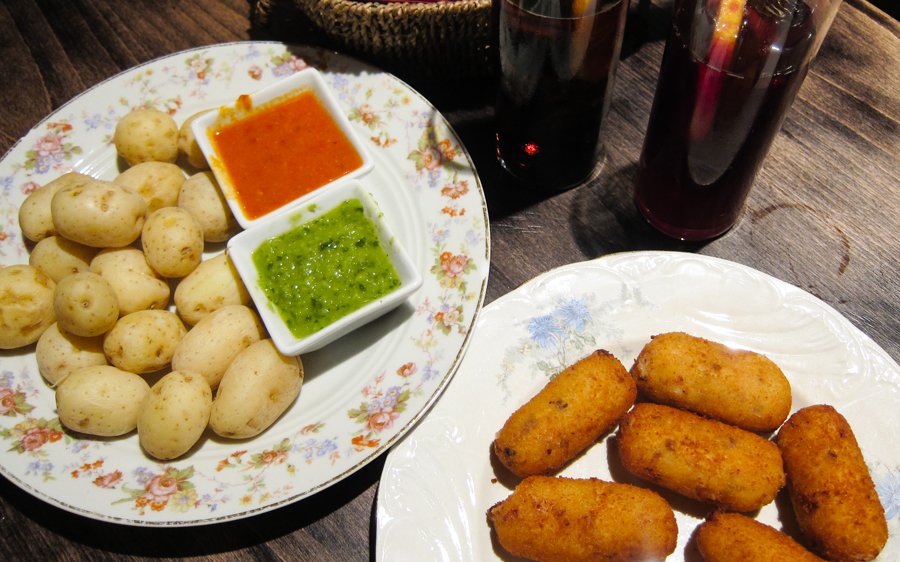 Mariscada (Seafood platter)
If you are going to the north coast (specially Galicia) and you like seafood, be prepared to have big plate for a little money. There is an extraordinary rich diversity of seafood, with outstanding quality. I thought I didn't like cockles until I tried them there!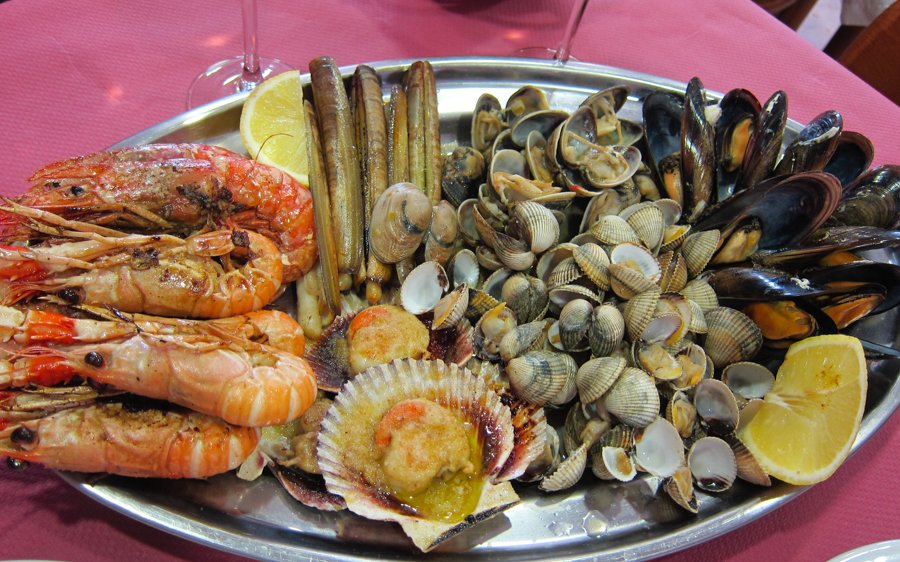 Cochinillo (Suckling pig)
In central Spain lamb, game meat and suckling pig are a very common in restaurants, specially in Segovia. The suckling pig has a very tender meat and crunchy skin. They say is so soft that in many restaurantes they cut the portions with a plate, to prove you that you don't even need a knife.
Fabada
Bean stew typical from Asturias, with chorizo, black pudding, paprika, garlic… Very filling in winter time! In Madrid they have a different stew called cocido: made with chickpeas, chorizo and black-pudding.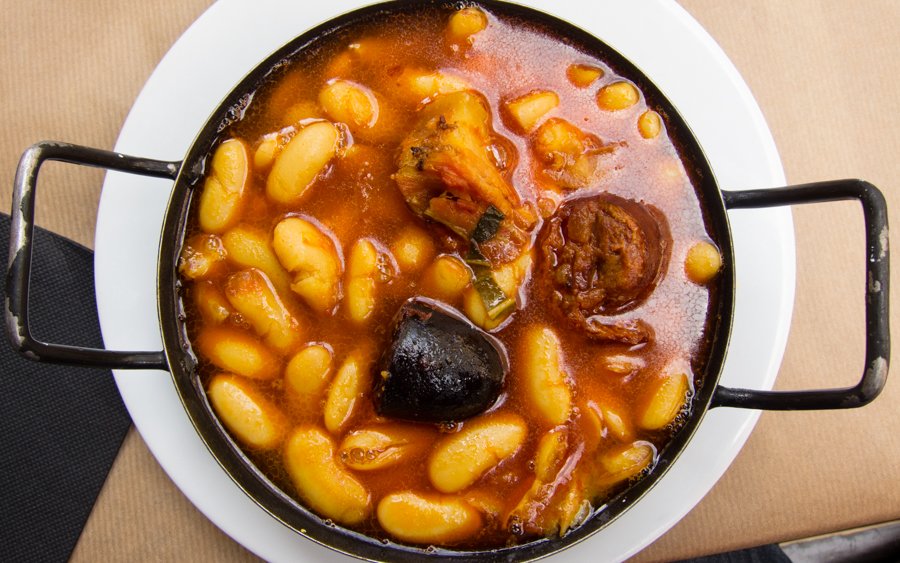 Cheese
Manchego cheese is the most famous and common cheese to find in a bar, but there are hundreds of types of cheese. If you like very strong cheese you should truy the most famous blue cheese is Cabrales, very tasty.
Olives
In Spain there are more than 300 varieties of olive trees, and thousands of ways to prepare the olives. The first thing to do with the olives is to remove their bitterness, by washing them a few days in water. Then is time to add the condiments, like paprika, rosemary, black pepper, onion, bay, garlic, lemon, vermouth… Olives are a very common tapa in a bar, they would frequently give you some for free with your drinks.
Spanish foods in the map