🔝 Things to do on La Palma
An island that completely exceeded my expectations, they rightly call it La Isla Bonita. Its landscapes are impressive, totally different from the rest of Spain. Because of its volcanic landscapes we could think that we are in Iceland, and because of its lushness we would sometimes think we were in any other tropical country.
I recommend this list of many great things to do in La Palma, and you will need one week to do them all.
Santa Cruz de la Palma
In my opinion, it does not take a long time to visit it, but it is close to the airport and it has its charm to walk around it. This is what I would highlight:
Avenida Marítima: It has many restaurants with terraces and one of the most photographed spots in the city: Los Balcones de la Avenida Marítima.
Plaza de España: With its Main Parish of El Salvador, with a colonial appearance that is not found anywhere else in Spain.
Anselmo Pérez de Brito Street: pedestrian street with shops and colorful houses with beautiful balconies.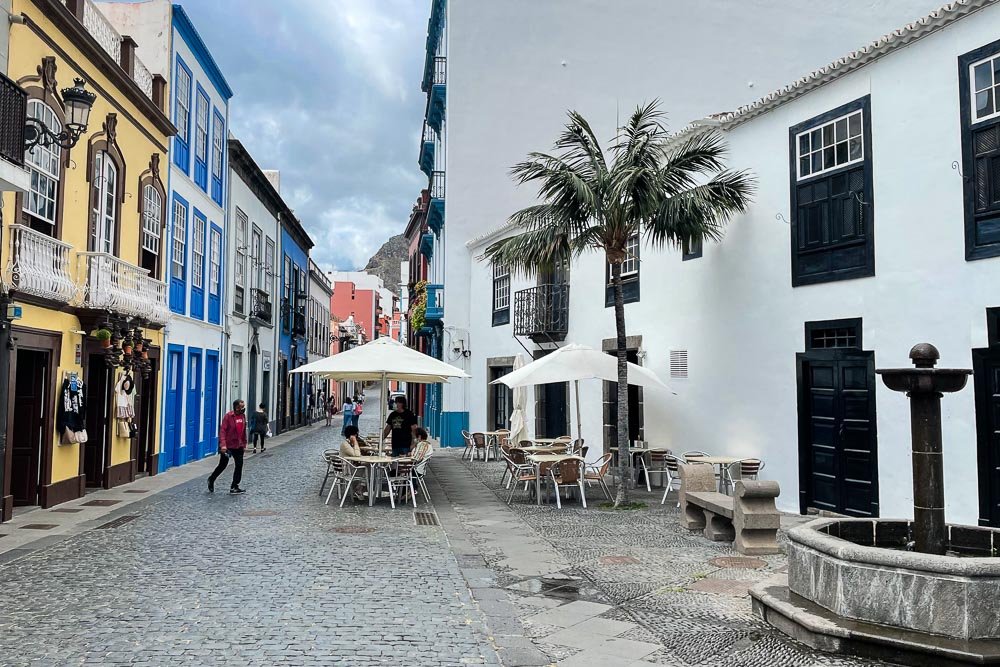 Beaches
La Zamora beach: with black sand, it would be a haven of peace, if it weren't for the incredible energy of the sea, which makes this an exceptional place for surfers.
⭐️ Playa de los Cancajos: halfway between the airport and Santa Cruz de la Palma, a beautiful sandy beach with some rocky areas. Our favorite.
Playa del Faro: Next to the Fuencaliente Lighthouse, it is a very beautiful beach, with colorful fishing boats. But it is not made of sand like the others, but of stones like big fists … so it is not to spend a morning.
Playa del Puerto de Tazacorte: It is not as beautiful as the previous ones, but it has many restaurants with terraces.
More information on beaches in La Palma
Banana trees
A most striking landscape is that of the banana fields, very green, very "crowded" and distributed in terraces, saving the great unevenness of the island. It is very curious the first time you see one of these trees up close, with its gigantic flowers. You just have to stop the car on a road and look over the wall. They can also be visited in detail in "Platanologico", if it coincides that they make visits the days you are visiting, it was not our case.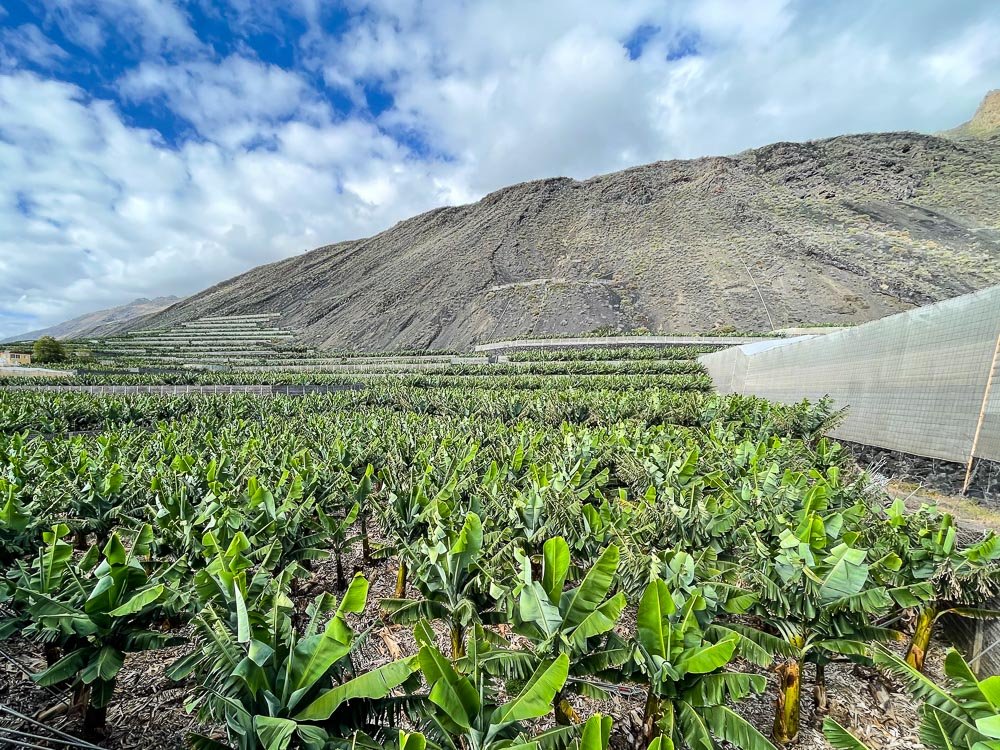 San Antonio Volcano
In the south of the island is this wonder, a landscape from another planet. To visit the volcano it is necessary to buy a ticket (€ 5), since it is accessed through the visitor center, it is a small museum, with a special charm for children: an earthquake simulator. The walk around the crater is less than 2km and there is hardly any slope, it is a quick visit. It is easy to do it with children, as long as we are careful that they do not get out of the way.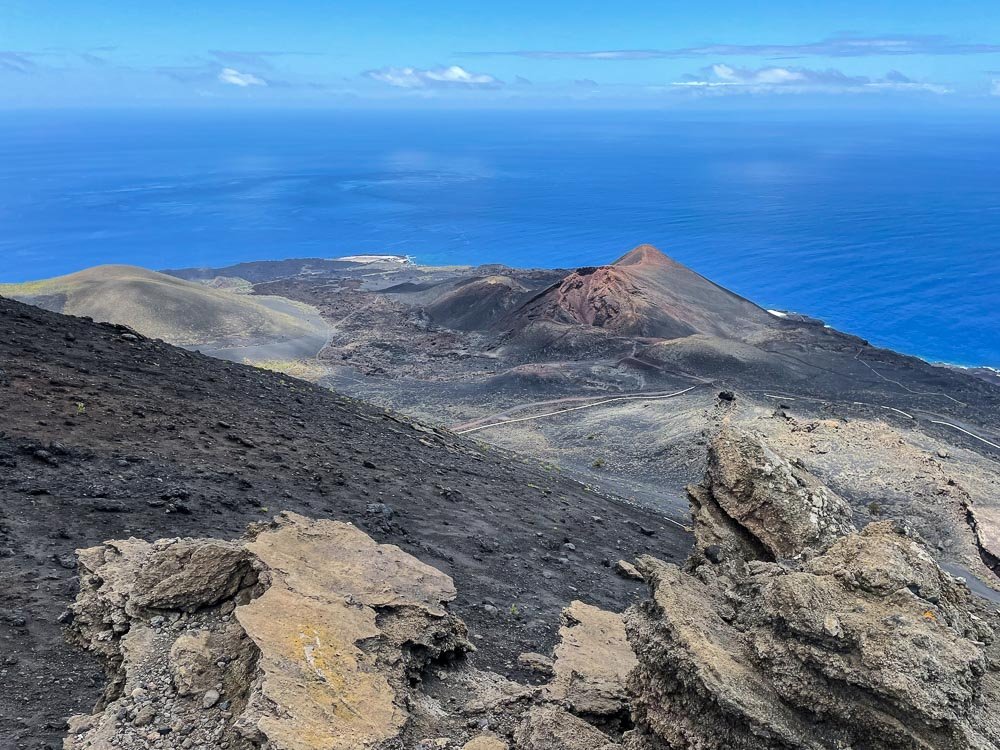 Salinas Marinas de Fuencaliente (marine salt flats)
At the southern tip of the island, you will find these beautiful salt flats. They can be visited, no entry required, although I recommend going into the store, I bought flavored salts and fried banana which was delicious, you can also find it in supermarkets, but I liked the one they sold here more.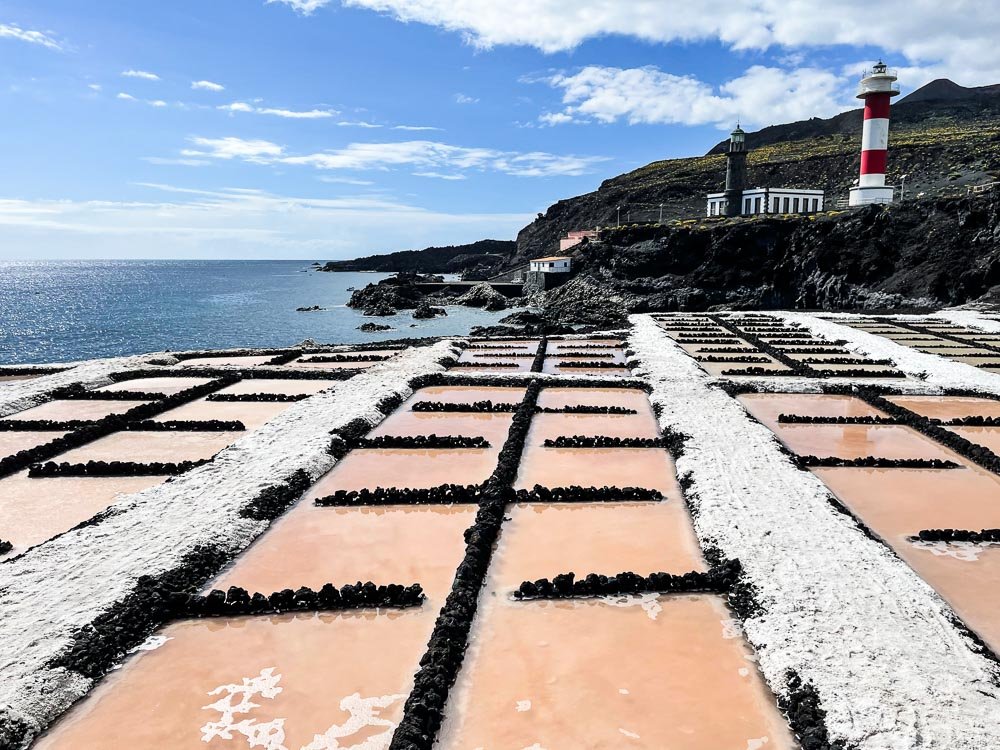 Volcanoes Hike
This route is absolutely essential when visiting La Palma. It is a bit long, but it is worth the effort.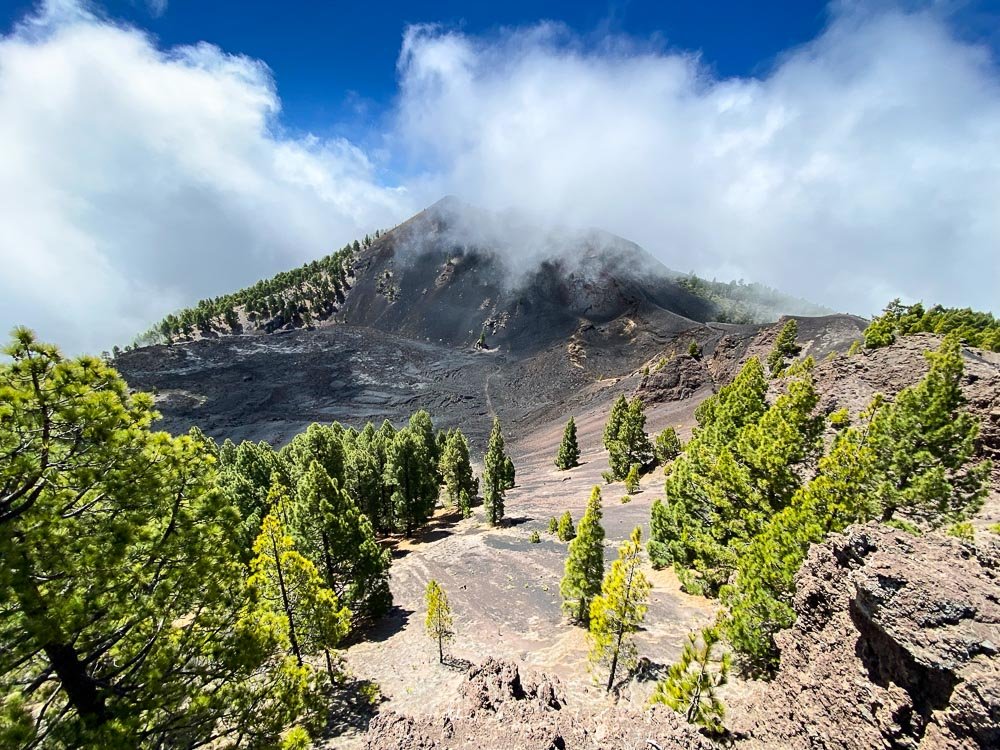 Caldera de Taburiente National Park
From the car park there is a small route to see the crater of the volcano from a different point of view. This route will cut through the crater itself. Very early in the morning it is easier to see the sea of clouds and how the clouds fall from one side of the island to the other side of the mountain. It is an indescribable spectacle you cannot see in the photos, you have to see it in person.
You should bring warm clothes, because early in the morning is quite cold, a usually very windy as well.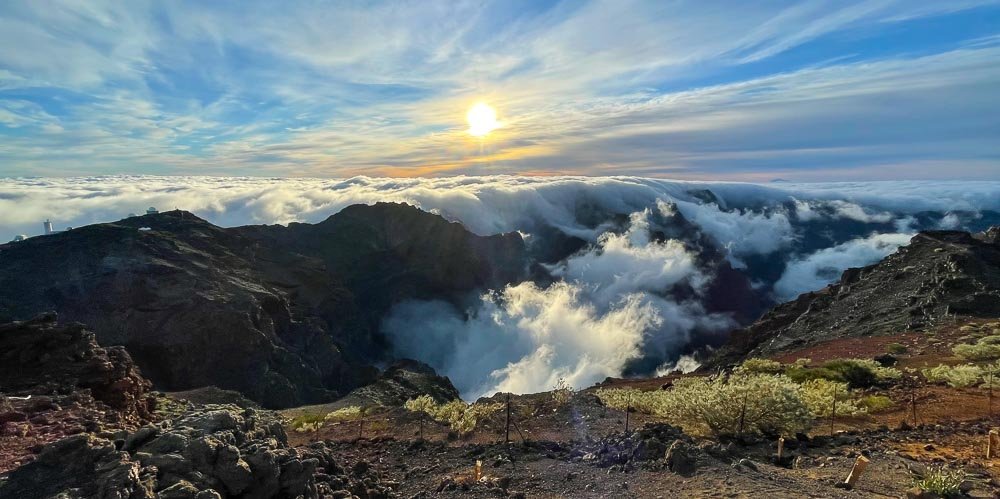 Natural pools in La Palma
La Palma has two very famouse natural pools by the ocea: La Fajana and El Charco Azul. This is one of the things you need to do in La Palma if you are coming with kids, if you like to swim in the ocean, or if you want a perfect photo for Instagram!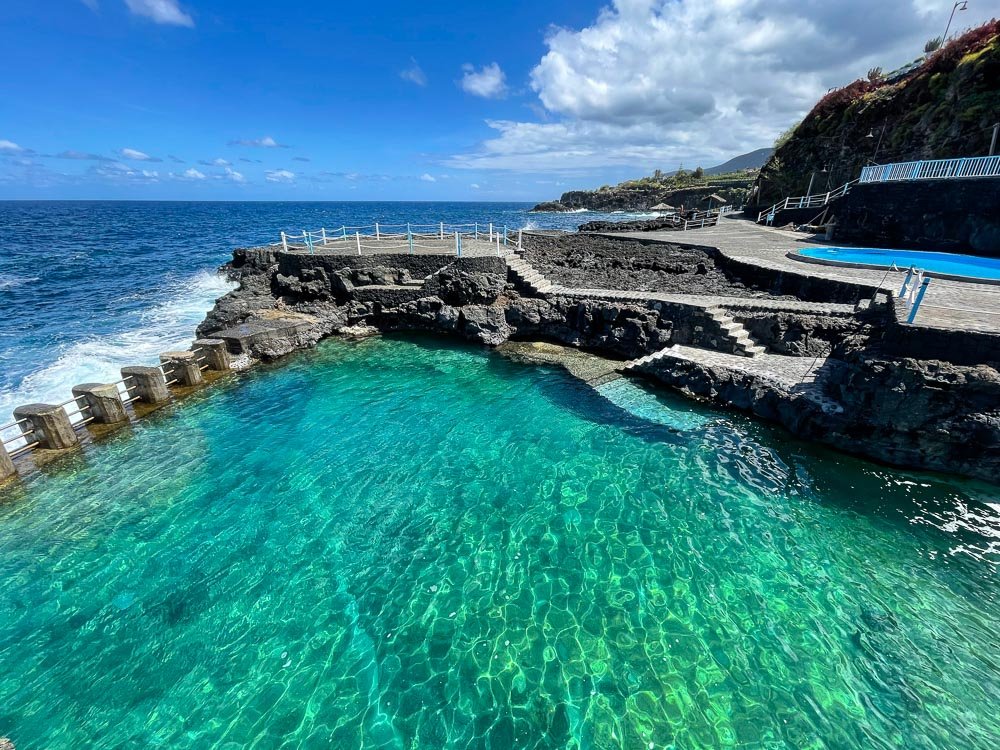 Dragos y Cuevas de Buracas
In Tricias Tourist Office they will tell you how to start the hike, google maps go a bit crazy with the streets and roads in that area. The route allows you to enjoy the famous dragon trees, an endemic species of the Canary Islands. And you will also see some caves that used to be indigenous houses, with symbols carved in the rock.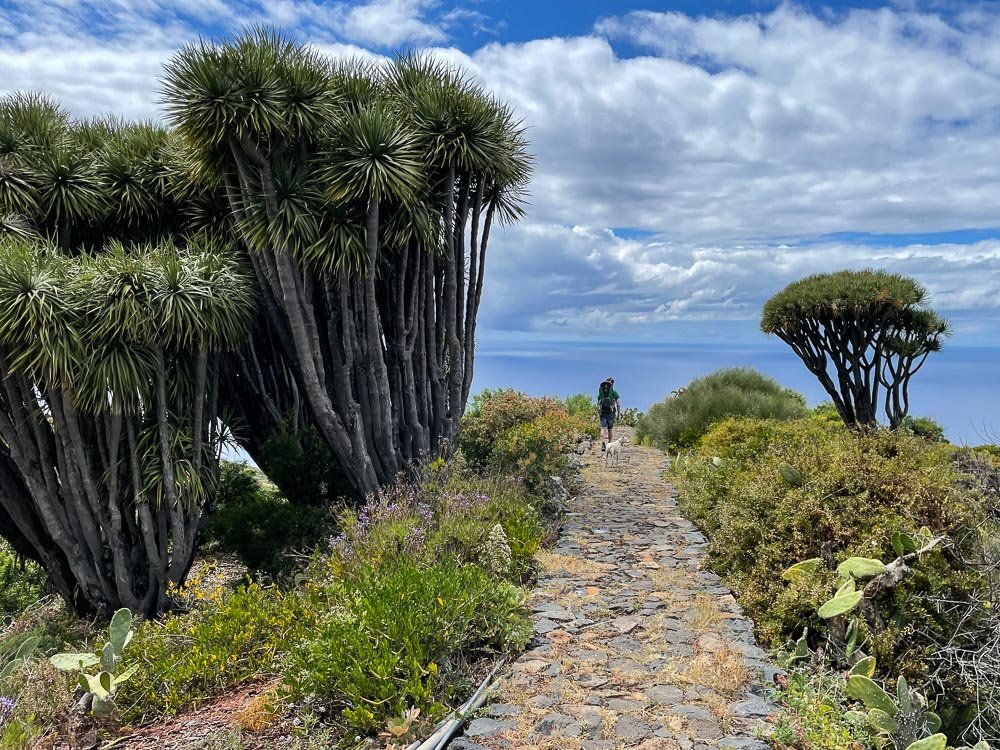 Tilos hike and waterfall
Giant ferns, a waterfall, and several tunnels. The waterfall is close to the road, but there is also a path that starts from the first of the parking lots.
Whale watching in the West of La Palma
A wonderful experience, and if you go with children it is already like an early Christmas! The most of the most! The boat leaves from the Puerto de Tazacorte and the excursion lasts about 2 and a half hours.
Mimbreras scenic road – Laurel tropical forest
The Carretera de las Mimbreras (LP-109) is a route in the north of the island. It crosses 16 kilometres of laurel forest. It is an alternative to the main road (Lp-1) that runs around the island in a circular way. I leave you the location to one of its viewpoints, so that you have it located, although in this case the viewpoint is not as beautiful as the road itself.
💡 The roads on La Palma are two-way and with many curves. If you get dizzy in the car, I recommend you buy Biodramina at the first pharmacy you find.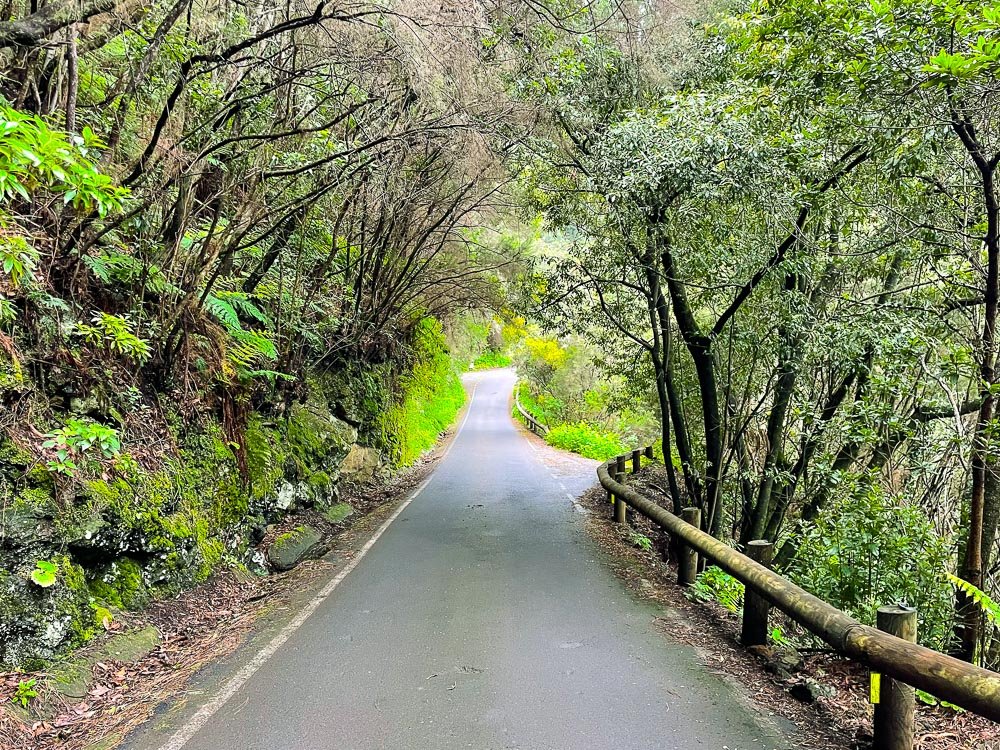 🍴 Restaurants in La Palma
If you like fish, you are going to have hundreds of options! Of all the restaurants we tried, this is our selection:
🛒 Authentic souvenirs
In Santa Cruz de la Palma, on the pedestrian street Anselmo Pérez de Brito there are many small boutiques. I bought handmade volcanic stone jewelry in a store called Lava Cristina, and it was very well priced.
Another thing that I bought for my friends is the fried banana, it is delicious and you can find it even in supermarkets.