📷 Things to see in Valencia
The Cathedral
It is worth a visit inside and also to climb all the way up to its bell tower.
👉 Read our detailed post about Valencia's Cathedral
Central Market
It is a huge market for groceries, but it also have some stalls to eat and drink. The building is beautiful and colorful.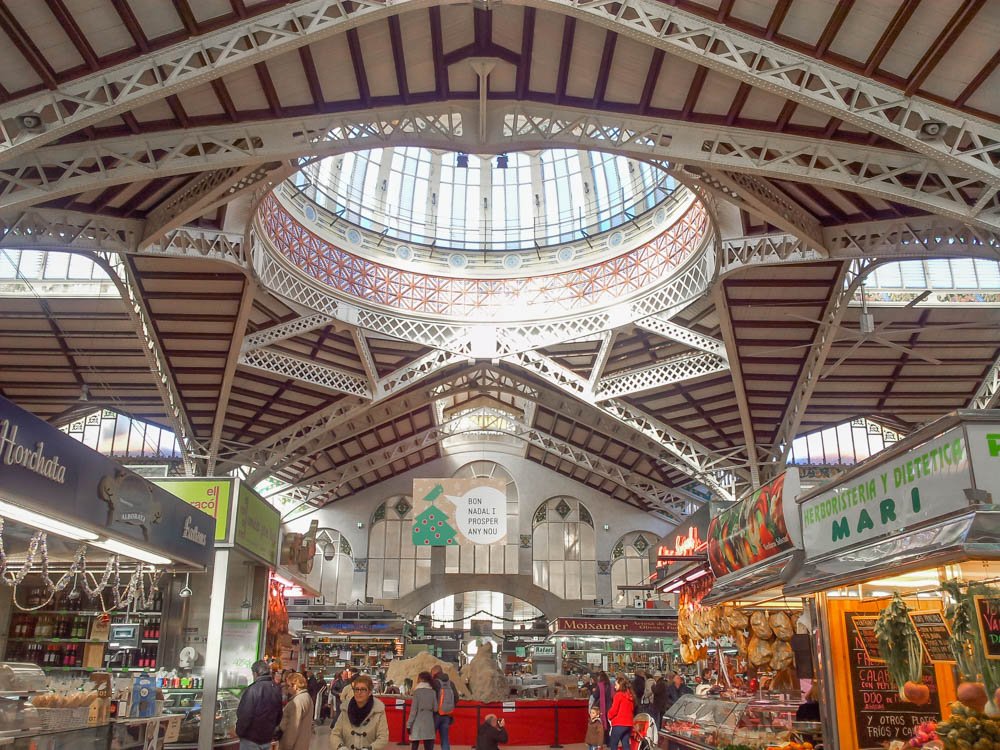 The City of Arts and Sciences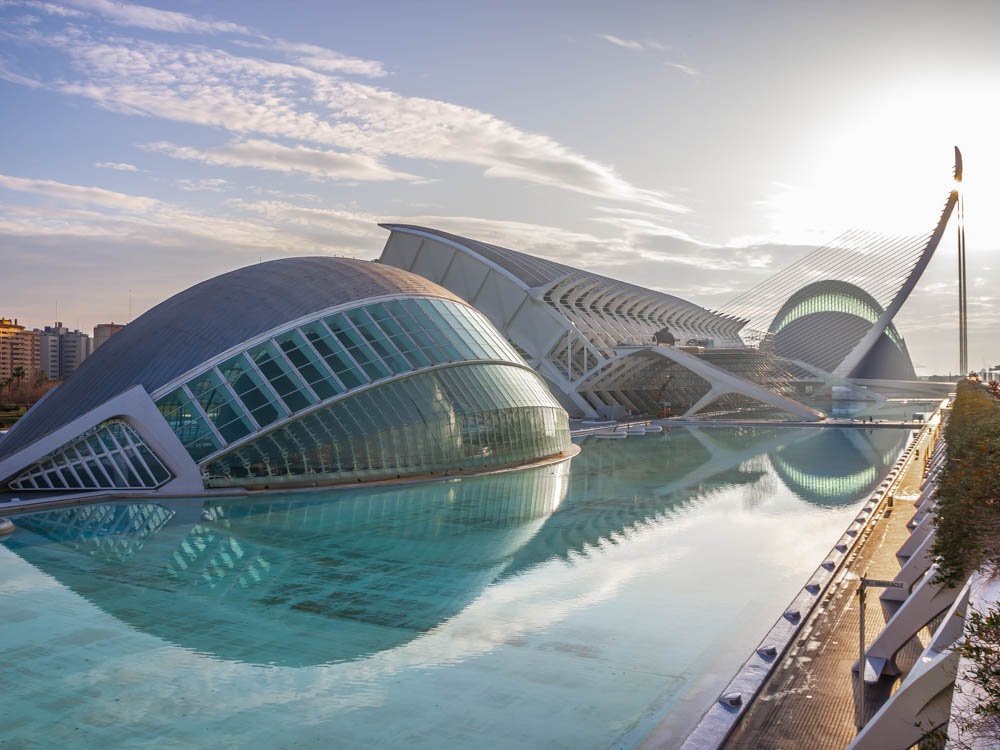 City Wall and Gates
The old town was surrounded by city walls, but they no longer exist, only the two magnificent gates: The Serrano gates and the Quart gates.
Llotja de la Seda (Silk Exchange)
Inside it has 24 helix columns and pilasters, incomparable Gothic elegance. And this is not all, this building has many architectural treasures.
It was created to hold marchands and bankers meetings, specially related with the silk, a powerful industry in Valencia back then.
🥘 What to eat in Valencia
Try some Horchata and Fartons
Horchata is a milk made with tiger nuts. It is served very cold, usually with a brioche called farton. You can't leave Valencia without trying it!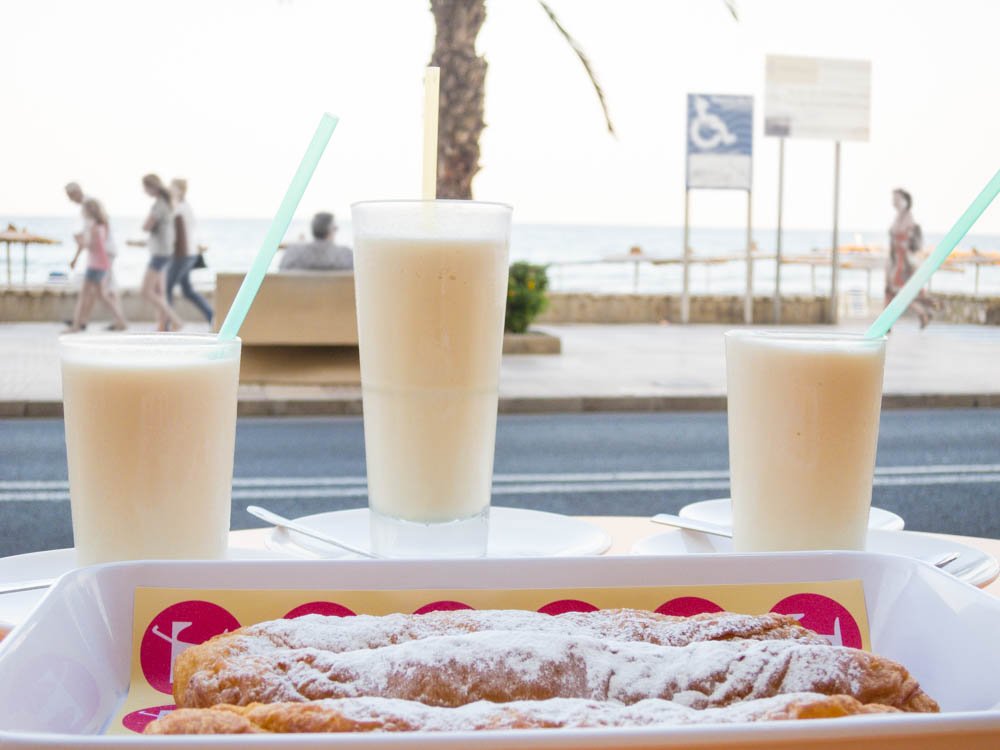 Eat the true Paella
Although Paella is a very typical 'Spanish' dish, it is actually typical from a specific region in Spain: the Valencian Community. And here the true paella is venerated as a real gastronomical treasure. Not every dish of rice is a paella, there are some specific recipes. But don't worry, if you are in Valencia, you'll find the good ones.
And remember: Paella never has chorizo, it never has green peas, it is never soupy or soggy!
🤸‍♀️ Valencia with kids
Valencia is a perfect destination to go with kids. It is very safe and walking distances are not to long. Also temperatures are mild all year long, so they won't get to tired.
The sciences museum in the City of Arts and Sciences is just amazing for kids, and the oceanographic is really good.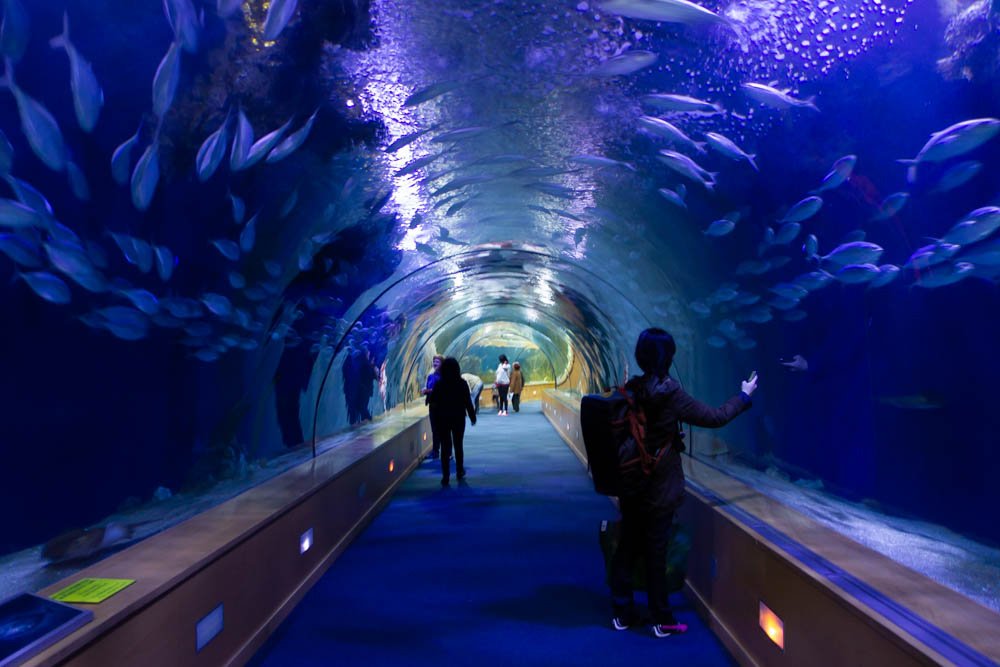 ✈️ How to get to Valencia
Valencia has a high speed train that connects with Madrid in only 1h45min. The Train Station Joaquin Sorolla is located in the city center (see location on Google Maps).
The International Airport is also close to the city (see location on Google Maps).
😎 If you have more than one day in Valencia
If you are lucky enough to stay more than one day in Valencia:
Boat trip in the Albufera: The Albufera is a coastal lagoon that provides water to all Valencia's rice crops. Here you can can enjoy great bird-watching experiences. But even if you are not so much into birds, you'll certainly enjoy the landscape, specially on sunset or sunrise. It is only 30min ride from Valencia and a perfect place to eat a good paella.
The Ceramic Museum.
Bike ride at the Turia gardens: The former Turia river's bend is noways a very large park.
Day at the beach in the Malvarosa beach.
Day trip to Peñíscola (1h30min drive from Valencia).