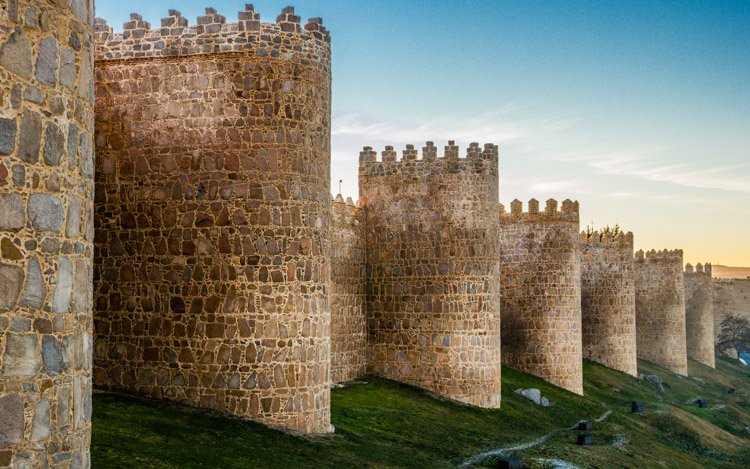 Avila is a city that would attract you since the first sight, is surrounded completely by its walls, two kilometres and a half, with 88 towers and 9 gates!
Ávila is one of the 15 UNESCO World Heritage Sites that you can visit in Spain.
Recommended tour around the city
If you want to visit Avila with a Tour Guide, contact us for a private tour.
If you want to stroll the city on your own , this is what I recommend you to do:
Walk along the city walls 
The city walls dates back from the 12th century, and ruins from previous walls have been recently discovered.
It's the main attraction in Avila, feel like the garrison protecting the city and enjoy the views, both to the outside and the inside.
Visit the Cathedral
It is the first Gothic cathedral in Spain, with some Romanesque remains. It dates back to the 12th century and the interior is wort a visit. The apse is 'embed' in the wall and they perfectly fit, like this the Cathedral was a part of the protection of the city, not only spiritually, but also physically.
Read our post about Spanish Cathedrals
Walk inside of the medieval town:
There are many palaces, temples and beautiful patios richly ornamented. This is a small town, so don't be afraid to get lost, just walk without a map and when you pass by, visit the Museum of Santa Teresa de Jesus.
Visit some Romanesque jewels:
Like the San Vicente church and the Santo Tomás monastery.
Stop in Humilladero de los Cuatro Postes:
Before leaving, if you are taking the road to Madrid, it has the best views of the hole city surrounded by its walls.
Typical gastronomy you should try in Avila
Yemas de Ávila: Yoak sweets, traditionally made my the nuns, nowadays you'll find them in bakeries.
Chuletón de Ávila: veal steak.
Sopa Castellana: Garlic soup with ham, egg, bread, paprika and olive oil.
Useful Information and Map
You can get the Avila Card for 15€, with entrances to all the monuments. Specially useful if you plan to stay one full day or spend one night.
The tourist office is near the Cathedral but outside of the walls.