One of the best things to do in Spain is to visit old towns and historic cities, and there are 44 sites in Spain considered as World Heritage by the  UNESCO.  Walking around in such cities feels amazing and lets you feel the spirit of old times. This is the list of 15 old towns and historic cities.
Alcalá de Henares
Location: Madrid
Population: 203,000
It was on of the first planned University Cities. The renaissance university is the main landmark in Alcala as it is one of the oldest in the world. This university was an example to other universities in Europe or even in the USA as many of them were influenced architecturally. It is also a home town of the world-known author Miguel de Cervantes, you'll find a museum and sculptures of him. The Plaza Mayor is one of the most beautiful ones in Spain.
Book a private tour to Alcala de Henares with us
Avila
Location: Castile and Leon
Population: 59,000
The real treasure are its walls, very well preserved and some parts are accessible for the tourists to walk. Also this city has many Romanesque and Gothic churches and it is hard to find a city which has more. It is also possible to find Romanesque style walls that were preserved during centuries and they were started at 11th century.
Book a private tour to Ávila with us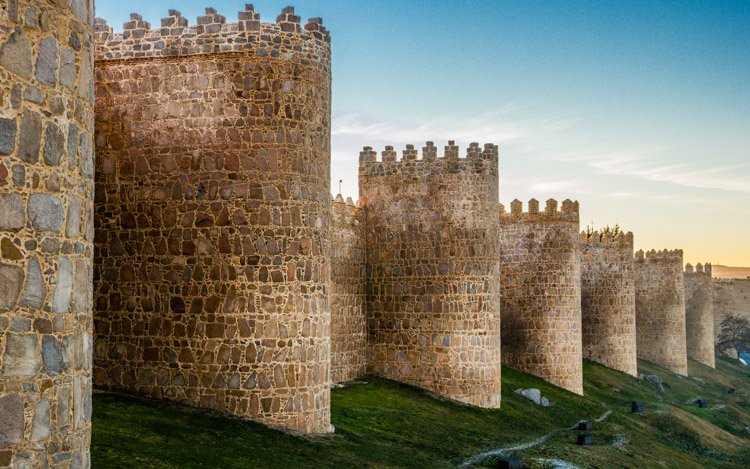 Caceres
Location: Extremadura
Population: 96,000
This city was settled in the prehistoric period, later it was ruled by Romans. This city was influenced by many different nations which is the reason why this city is famous for having a diverse architecture that are Roman, Moorish, Gothic and even Renaissance. There are 30 Islamic towers in the city that still stand there and attract tourists.
Cordoba
Location: Andalusia
Population: 325,000
The most famous monument in this magnificent old town is Great Mosque of Cordoba. In the beginning it was a Christian church but later it became a mosque. The Christian king restored this building in 13th century and made it Christian again. This city had a huge number of Muslim mosques as it was an education centre of Muslims. Furthermore, the number of religious buildings could be compared to other Muslim cities like Baghdad. This city was once the most populated in Spain.
Cuenca
Location: Castile-La Mancha
Population: 57,000
A fortified city that has a very unique look because of its hanging houses. These houses hang over the cliff and make everyone wonder how it was possible to build them. They were built in 15th century and even though many these kind of houses were common in Cuenca, nowadays only a few of them remained. This city is also famous for having a cathedral that was the first Gothic building in the whole Spain.
Ibiza
Location: Balearic Islands
Population: 132,000
This city is located in an island that is 79km away from Valencia. The location is perfect for preserving biodiversity that makes this city even more popular. The beauty of the island is a perfect place for photos and making movies so even big companies take advantage of it. It also has Phoenician ruins who settled there at 650BC.
Merida
Location: Extremadura
Population: 58,000
It is a city that was founded in 2th century BC by Emperor Augustus. As it was one of the most important Roman cities, it has many Roman remains that were preserved till this day. This city has remains that were so typical in Roman Empire like aqueduct, amphitheatre, circus, theatre and forum. It also has a bridge that is worth to see. Overall, this city has more Roman monuments that no other Spanish city can compare to that.
Salamanca
Location: Castile and Leon
Population: 154,000
This city has the oldest university in Spain and it is 4th in Europe. This university made the city an important spot not only for Spanish students, but also for international students who come to Spain to study Spanish. It was one of the most prestigious universities in Europe. This city also suffered many conquests which is the reason why its architecture is so diverse as it includes Romanesque, Gothic, Moorish, Renaissance and Baroque monuments. Its Plaza Mayor is one of the most beautiful ones in Spain.
San Cristóbal de la Laguna
Location: Canary Islands
Population: 150,000
This city was the capital of Tenerife and so far has the best reputation of all cities in Canary Islands. It was the first Spain's colonial town which set an example to other colonies in different continents. It has various religious buildings and some ancestral homes.
Santiago de Compostela
Location: Galicia
Population: 95,000
One of the most significant buildings in this city is the Cathedral of Santiago de Compostela. It is an important temple for Christianity since this cathedral was built on a place where the apostle Saint James was found and later buried, according to tradition. Furthermore, this cathedral is the final destination for the Camino de Santiago (Saint James Path).
Segovia
Location: Castile and León
Population: 56,000
One of the oldest buildings in the city is the Roman aqueduct which was built in the 1st century. This city also has a fairy-tale like castle (Alcazar) that is very famous in the world and many tourists are attracted there by it since it reminds them of Disney movies. This castle was built in 11th century.
Book a private tour to Segovia with us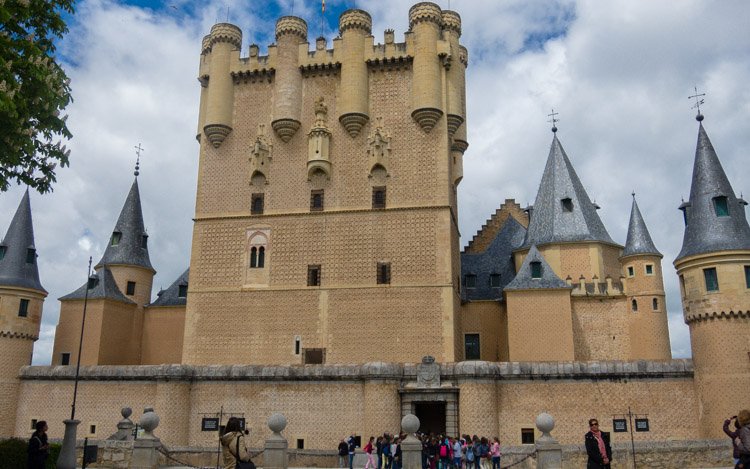 Tarragona
Location: Catalonia
Population: 134,000
Tarragona was once a Roman city which was called Tarraco. Therefore, probably the most famous building of the city is the amphitheatre that dates back to 2nd century. There are other Roman remains like circus, forum and even Roman walls that were built to protect the city. It has many ancient remains even though many of them are hidden under modern buildings. It also has a great number of religious buildings that date back to 12th century.
Toledo
Location: Castile-La Mancha
Population: 84,000
This fortified city was the capital of Spain for many centuries. It is obvious that this city was hard to take over since it has huge walls, surrounding mountains and a river flowing by. Moreover, it is the city where people of different cultures and religions lived together. This cultural diversity resulted in having so many religious remains of different religions like Christians, Jews and Muslims.
Book a private tour to Toledo with us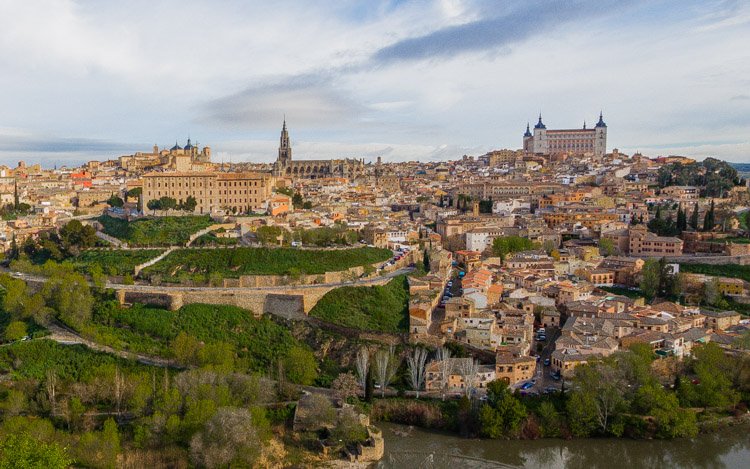 Baeza
Location: Andalusia
Population: 16,000
This is a town that was built on a cliff and it was called Beatia in Roman times. This city is famous for its Renaissance architecture and whitewashed houses that are very traditional. The famous monuments include the cathedral and the university.
Ubeda
Location: Andalusia
Population: 36,000
As well as Baeza, this city is famous for its Renaissance style since it is one of the first examples of this architectural style in Spain. This town is historic-artistic site with main monuments that include many churches, palaces and houses. Main landmarks are the Vázquez de Molina Square and Palacio de las Cadenas.
Map of Spain with the World Heritage Sites

* The centuries here shown are just an orientation of the main monuments that you can find on those sites.